As the world finds new ways to regain its footing due to the covid-19 pandemic, there's no denying how greatly it affected the IT outsourcing industry, exposing weaknesses in some outsourcing models. Yet, the recovery will be swift, and the outsourcing sector will become stronger and more important than ever!
As the situation continues to unfold, many companies which lack an agile approach, are facing challenges due to the absence of automated or planned processes before covid-19. Factors that are now essential for companies to continue the path towards digital conversion and automation of their processes. However, this also created a unique opportunity for organizations to build better systems to protect against similar situations. Naturally, the unforeseen crisis has brought challenges, but not without its improvements.
In the beginning, most companies were facing hurdles in adjusting to a work from a home plan, partly due to their new introduction to an unknown work methodology, and the demands that came with it. However, the IT outsourcing industry has always succeeded in remote work. Despite the pandemic, IT outsourcing proved to be capable of continuing its software development services despite a completely remote scenario, and this was especially true for the Nearshore Portugal team who continued to support and work together with customers despite the lockdown.
Nearshore IT Outsourcing – The Aftermath
Now, more than ever, the need for an experienced and qualified Nearshore partner is critical as it offers the ability to maintain a high level of control even amid an unforeseen and critical situation. Although Nearshore IT outsourcing delivers key advantages, such as quick travels, greater team engagement, and cultural similarities, one of its major benefits focuses on communication.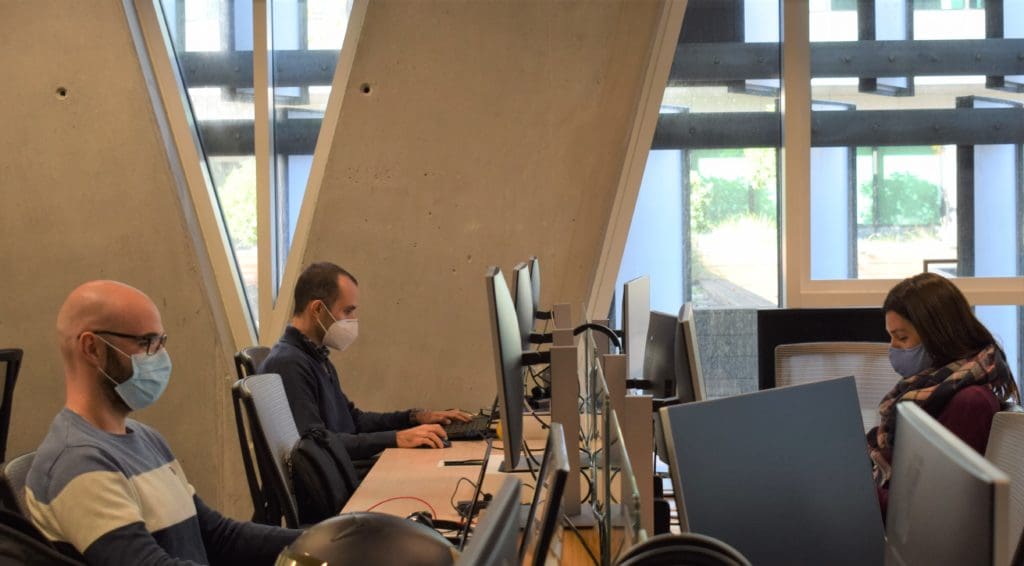 At Nearshore Portugal, we know that strong relationships are essential. One thing that was set clear during the pandemic is that well-founded and kept relationships between clients and service providers are a must, especially during a crisis. For Nearshore Portugal, this meant having a well-prepared communications plan with our clients in place before a lockdown, ensuring the continuity of projects, meetings, development, and delivery.
As in any business relationship, communication is key but being available to set your clients' minds at ease and answering questions is only half the battle. Providers need to have a plan of action for unforeseen situations. Nearshoring is the ace in the whole of outsourcing, and the right nearshore partner can lead to an efficient outsourcing relationship, a mutually beneficial two-way street. After all, outsourcing is about increasing the efficiency of your organization, and for outsourcing partners that provide talent, this means protecting what values the most: people.
New Priorities!
The future of outsourcing will bring a new age of connectivity with a much needed cultural shift. In a way, the pandemic has encouraged action that was already taking place — digital transformation. From night to day, workers from across the globe began working from home and this sparked a critical question: How can we, collectively, guarantee employee health?
A survey performed by Qualtrics in April 2020 found that 44.4% of newly remote workers have stated that their mental health had declined since the outbreak of the pandemic.
The solution to this problem won't be as simple as returning to the office but rather to how to support people, and this will be a determining factor for talent retention. Companies need to develop wellness support programs to create steps to ascertain employees' health. At Nearshore Portugal our team is our biggest asset, and we are committed to ensuring each employee health by:
• Providing all members of our team with wellness benefits;
• Implementing steps to guarantee a workspace where employees feel safe,
The Big Picture
Nearshore outsourcing is driving digital transformation, a necessity for businesses of all sizes. Although outsourcing models such as offshoring have advantages, nearshoring has the capabilities of quickly and reactively responding to sudden changes due to its strong communication-based model which, due to the similar time zones with external teams, allows for higher levels of engagement and responsiveness.
The coronavirus phenomenon has shown how seamless communication is critical for a robust partnership that, among many, protects organizations from what lies beyond the horizon, unseen. Regardless of what is to come, one thing is certain, companies need to protect their people.
In a year marked by change, highly-qualified professionals will continue to be a regular, and a sought-after resource. As hiring picks up, companies that fail to invest in their people's wellbeing will struggle to retain these key professionals. For outsourcing companies who decide to start a new year focused on investing in their talent pool, they won't just be setting a new standard, they'll be leading it!
If you liked this article, don't get to check out: The Future of Office Work: Is it Finished?
Get to know more about us!