When considering software development outsourcing, the first factor most companies take into account is the ROI. The Return on Investment is the quality of service they expect to receive against the cost of those services.
Although offshore outsourcing can provide fair ROI, the talent gap between Offshore and Nearshore often makes Nearshore a better choice.
So, what's the difference between Nearshore and Offshore?
Offshore refers to sourcing developers from a country far away from the client's office. While Nearshore means working with a team in a nearby country rather than the other side of the world. Nearshore is often pointed to as the best choice due to its advantages like time zone, cultural alignment, and accessibility.
According to a research study conducted by GoodFirm, 74% of companies decide to outsource for the long-term savings in hiring staff and infrastructure, and 60% expect to achieve Staffing Flexibility when outsourcing.

Companies that refer to "Low price" as one of their primary motivations to outsource, take the risk to partner with offshore countries. But, as shown below, there are on-going and substantial issues associated with Offshore software development today.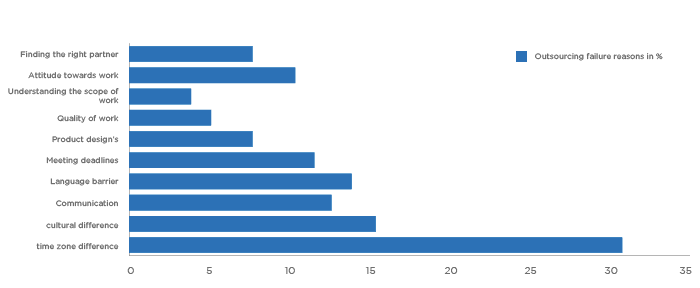 The truth is: Offshore is cheaper yet hard to maintain!
Nearly 31% of the participants consider time zone difference as a significant challenge while outsourcing work to countries like India. But there's a lot more to consider, such as the real cost of an Offshore Project.
Offshore extremely low labor rates tell only a fraction of the story about Offshore outsourcing costs. Here are some other sources of expenses:
Limited communications
It's imperative to have high-quality communication between the offshore team and your company. If you're a whole day behind your team, you have limited opportunities for feedback.
Fees for additional work
You can get the most out of software development by partnering with a company that practices Agile methodologies. because it works to mitigate risk. However, Agile requires frequent and iterative releases, and these rely on real-time collaboration. It all comes down to the development of trust, and shared understanding between developers and project owners.
Low quality work is often redone In-house
Offshoring software development can lead to delays in the feedback of ideas and deliverables. This can make slow productivity during waiting periods and messy production from rushing to meet deadlines, creating mistakes.
Travel Costs with offshore
Despite technological advances, there's not really a substitute for face-to-face communication. So when working with a company overseas travel costs should be considered.
Some Nearshore companies seem to be more expensive than Offshore companies, but most of them provide cost-efficient services. Moreover, companies looking to outsource their software development should take into consideration how distance affects the quality of communication and control that they have over the developer's direction, evolution and priorities.
In conclusion, Nearshore companies have the advantage of sharing similar time zones, offering the savings of outsourcing with the dynamic of an in-house team. Besides, Nearshore teams are closer to your office, there is an excellent opportunity to have more frequent meetings in person.